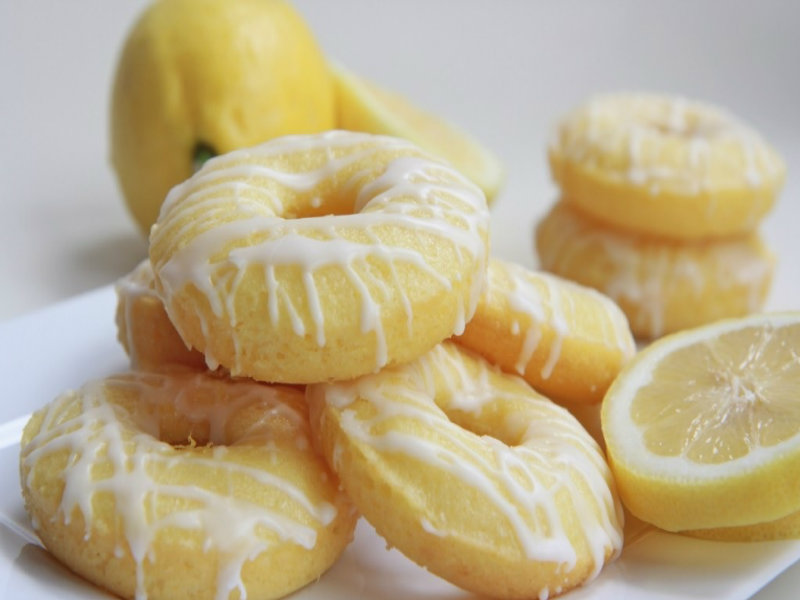 Ingredients
To Make the Donuts:
1 large egg
¾ cup sugar
1 cup sour cream
¼ cup vegetable oil
1 Tablespoon lemon zest
1 Tablespoon lemon extract, NO SUBSTITUTIONS
Yellow food coloring, optional, as much as needed for desired color
1¼ cups flour
½ teaspoon baking powder
½ teaspoon baking soda
¼ teaspoon salt
To Make the Glaze:
1½ cups powdered sugar
5 Tablespoons fresh lemon juice
Instructions
Make the Donuts – Preheat oven to 350 degrees. Spray one 6-count non-stick with cooking spray, Set aside.
In the bowl of your mixer combine the sour cream, eggs, sugar, oil, lemon zest and lemon extract.
Fold in flour, baking powder, baking soda, and salt.
Fill donut pan, and bake for about 13 to 15 minutes. They will be springy to the touch.
Prepare Lemon Glaze In a small bowl, add powdered sugar and slowly drizzle in the lemon juice while whisking until smooth and combined. You may not need ALL of the juice. Quit adding when you get your desired consistency. Don't worry, if it gets too thin, add more sugar until you're happy with it.
When donuts are hot, remove them from the pan, when you are able to touch them, dunk the top in the glaze and let them dry/cool on a wire rack.
Spray and fill pan up one more time, repeating all of the steps. Makes 10 donuts. (if glaze begins to harden in between batches, simply pop it in the microwave for a few seconds and give it a stir)
Best eaten when fresh. Store in an airtight container up to 4 days.
Source : allrecipes.com