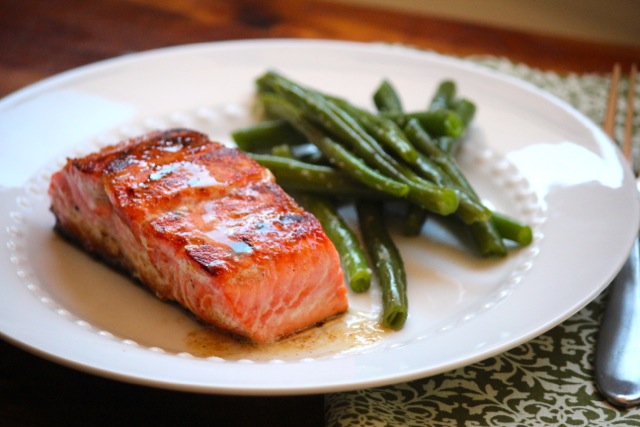 4 (6 oz) salmon fillets
8 tsp flour, divided
8 tsp honey, divided
2 Tbsp extra virgin olive oil
zest of 2 limes
Browned Butter Lime Sauce
6 Tablespoons Butter
3 Tbsp fresh lime juice
1 tsp honey
1 clove garlic, minced
1/2 tsp salt
1/2 tsp pepper
1.  Place the salmon fillets onto a cutting board and put 1 tsp flour on each side and evenly spreading the flour over the salmon.  Evenly drizzle 1 tsp honey onto each side of the salmon.
2.  Drizzle 1 tbsp olive oil into a saucepan and heat to medium.  Since you don't want to overcrowd the pan, you may want to use two pans and use the other 1 tbsp of olive oil, or do two batches.
3.  Carefully place the salmon into the pan and cook 3-5 minutes on each side browning each side of the salmon.
4.  While salmon is cooking, to make the sauce heat the butter into a small saucepan.  Swirl the butter occasionally until it has turned a light brown color and is fragrant.  Remove from heat and whisk the garlic, honey, salt and pepper into the sauce.
5.  Pour the browned butter sauce over the salmon and sprinkle with your lime zest and enjoy!
Source : allrecipes.com