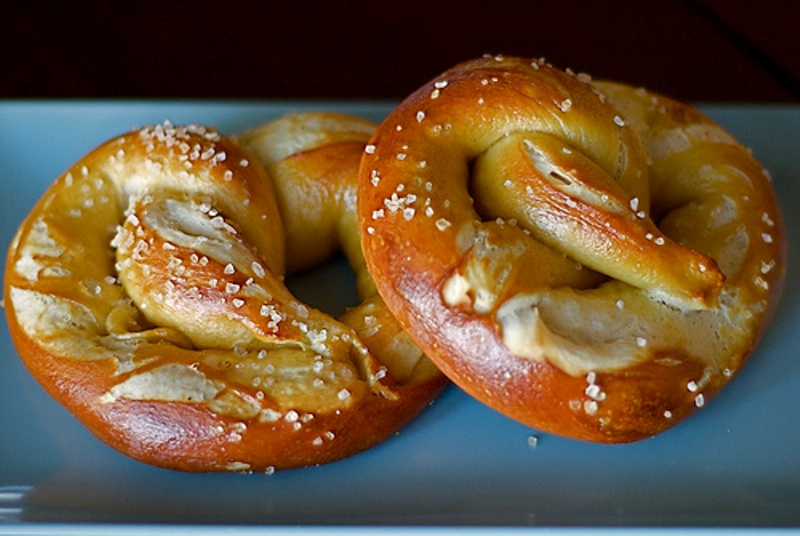 DOUGH:
3 teaspoons instant dry yeast
1 1/2 cups warm water (about 105 degrees F)
2 tablespoons granulated white sugar
4 cups all-purpose flour
1 teaspoon salt
CRUST:
1 cup water
2 teaspoons baking soda
coarse sea salt or kosher salt
1/4 cup (1/2 stick) butter, melted
DIRECTIONS:
1. In a large bowl, combine the yeast, warm water and sugar. Add in the flour and salt and knead until smooth (you can use your hands, or you can use a stand mixer with a dough hook for this part).
2. Grease a second bowl with nonstick cooking spray and place the dough into the bowl. Cover with greased plastic wrap or a clean dish towel and let rise for 30 minutes in a warm place.
3. Preheat the oven to 425 degrees F. Line 2-baking sheets with parchment paper or silpat mats.
4. Divide the dough into 8 equal parts. Roll each part into a rope about 24 to 26 inches long and form into a pretzel shape (see this post for detailed instructions on how to shape a pretzel).
5. In a shallow bowl, combine water and baking soda. Submerge each pretzel in the water and then place on the prepared baking sheets. Sprinkle with salt. Let the pretzels rest for 5 to 10 minutes.
6. Bake 12 to 15 minutes, or until golden brown. Brush each hot baked pretzel with melted butter immediately after taking them out of the oven.
Source : allrecipes.com