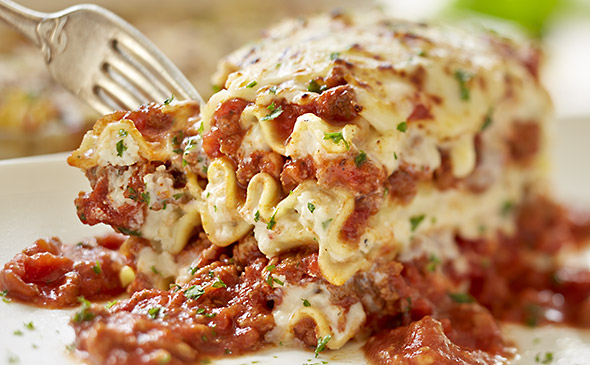 Ingredients:
1/3 cup olive oil
1 pound ground beef
1 tsp cracked black pepper….use to coat beef
1 medium onion chopped
1 green pepper chopped
6 cloves garlic minced
5 basil leaves finely chopped
1 tbls fresh chopped oregano
1 14 ounce can tomato sauce
1 small can tomato paste
2 tsp salt
1 box dry lasagna noodles
1 pint ricotta cheese
1 cup grated Parmesan
1 large ball fresh mozzarella
Directions:
Heat oil in a large pot on high heat. Add the beef and coat it with pepper. Cook through about 5-6 minutes
Remove the beef and add in onions, peppers, 1/2 the garlic, and herbs. Turn the heat to medium and cook veggies until soft.
Add in the tomato sauce and paste. Season with salt and pepper and simmer for 1 minute.
Bring large pot of salted water to boil and cook lasagna noodles. Drain
Preheat oven to 400 degrees…..
In a bowl mix ricotta and Parmesan well. In a 9×12 baking dish begin laying down pasta. Smooth on a layer of cheese mixture and spoon on meat sauce. Add another layer of pasta and repeat process until you reach the top of the dish.
The final layer should be the cheese mixture and the fresh mozzarella.
Cover with foil and place in oven. Bake for 45 minutes. Remove foil and let brown another 15 minutes.
Serve with garlic bread and salad. Enjoy!!!
Source : allrecipes.com