Cake is an easy thing to love. It's even easier when that cake is so easy to throw together that you don't even need a mixing bowl!
This cake here just might be the easiest cake recipe in the world, and it doesn't hurt that it's downright delicious too. It's full of sweet and juicy cherries and rich chocolate flavor and it's perfect with a scoop of ice cream and a sprinkle of sliced almonds for crunch.
This Black Forest Dump Cake is ridiculously simple to make, and so delicious no one would ever guess how little time you spent in the kitchen.

This cake is full of flavor but there's really not much more to it than dumping a few things in a baking dish. You start by spreading out a can of cherry pie filling and a can of pitted cherries, and then you top that with a box of cake mix. (Like, you just dump the powdered mix on top… you don't even need to mix anything into it first.)
Then you just top it with some butter and sliced almonds and pop it in the oven. As it bakes, the juices and butter combine with the dry mix to form a chocolatey, tender cake. It's like magic!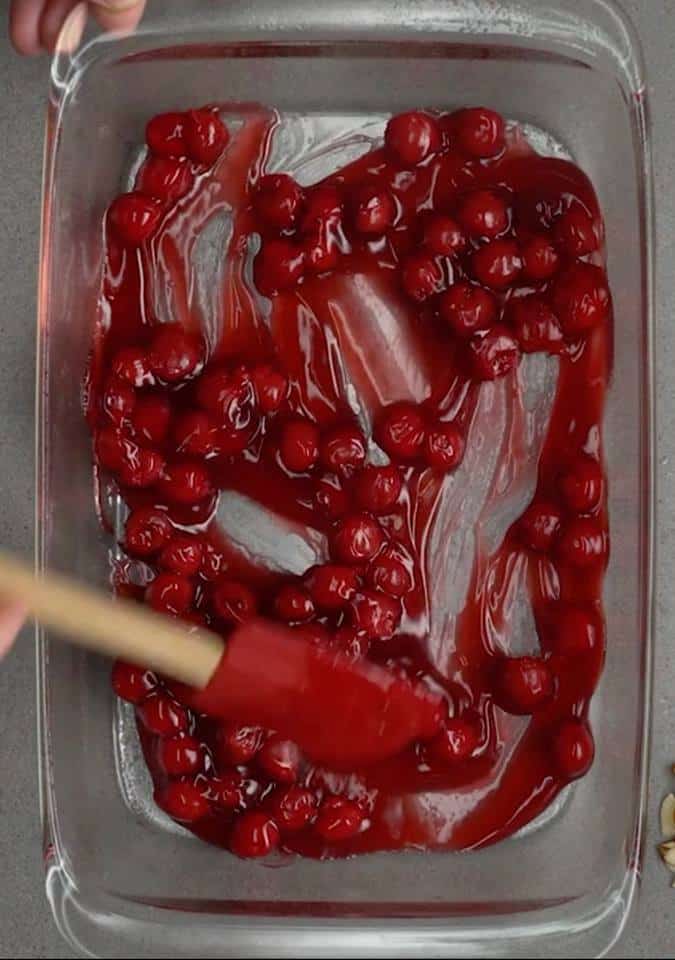 INGREDIENTS :
1 can (21 oz) cherry pie filling
1 can (15 oz) pitted dark sweet cherries, undrained
1 box chocolate cake mix
1/2 cup almonds, sliced (optional)
3/4 cup butter, cubed
PREPARATION :
Preheat oven to 375°F and lightly grease a 9×13-inch baking dish.
Spread pie filling into prepared dish, then top with undrained cherries.
Pour cake mix evenly over cherries and sprinkle with sliced almonds. Top with cubed butter.
Bake until topping is set, 40-50 minutes. Serve warm or room temperature.
Source : allrecipes.com