The Best Creamy Tuscan Chicken you'll ever make! Our recipe uses thinly sliced chicken breast, fresh spinach, flavorful sun-dried tomatoes, all swimming in a delicious creamy sauce. Everything comes together in just 30 minutes!
Looking for something quick, easy and delicious for dinner tonight? – Creamy Tuscan Chicken is your answer! This delicious, quick and easy recipe only takes 30 minutes to make, uses just a handful of basic ingredients and is incredibly versatile!
This dish is actually not from Italy, but originally created by the Olive Garden and called Tuscan Garlic Chicken! True story. I've never actually ordered the dish from there, but definitely remember seeing it advertised on tv years ago. While the original dish uses lightly sautéed strips of red bell peppers, we swapped ours out for thin strips of sun dried tomatoes for a brighter punch of flavor.
What to Serve with Creamy Tuscan Chicken
Pasta is most commonly served with creamy tuscan chicken, but there are a variety of other serving suggestions:
steamed rice – either white or brown taste delicious.
other grains – some of our favorites are quinoa, farro, bulgar, or a combination!
over a baked potato – that's right! Give that chicken a quick chop, stir it back into the sauce and ladle everything over the baked potatoes.
steamed or roasted vegetables – and keep it low carb!
a crusty baguette – to soak up all the delicious cream sauce.
Variations
We love the versatility of this recipe. You really can customize it to fit your taste exactly! Some of our favorite variations are:
Sautéed wild mushrooms can be incorporated into the creamy sun-dried tomato and spinach sauce to bulk it up.
Torn kales leaves are a heartier alternative to spinach.
Thinly sliced and sautéed strips of red bell pepper (or roasted red bell pepper) can used used instead of the sun-dried tomatoes.
Fresh diced tomatoes can also replace the sun-dried tomatoes.
Swap the boneless, skinless chicken breasts out for large seared shrimp for a protein alternative for this dish.
Add some heat to the dish with a couple pinches of crushed red pepper flakes.
Make this recipe gluten free by swapping gluten free flour in for the all purpose flour.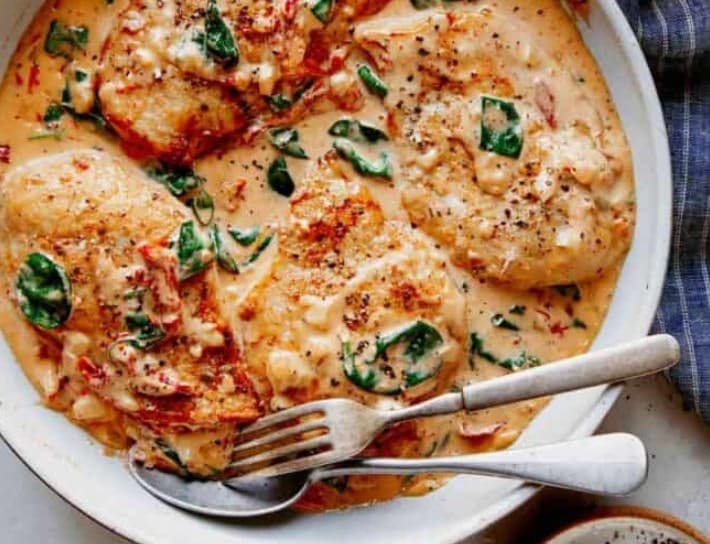 INGREDIENTS
2 boneless, skinless chicken breast
2/3 cup all-purpose flour
3 1/2 tablespoons unsalted butter
1/4 yellow onion diced
2 garlic cloves minced
1/4 cup sun-dried tomatoes (packed in oil) thinly sliced
1 1/2 cups heavy cream
3 ounces Parmesan grated
2 1/2 ounces spinach leaves
salt and pepper to taste
INSTRUCTIONS
Slice each breast in half lengthwise, so you have 4 thinner breasts.
Season each breast on each side with salt and pepper and dredge in flour, shaking off any excess.
Melt 2 tablespoons butter to a skillet over medium heat.
Add coated chicken and sear for about 3 minutes on each side.
Remove chicken from skillet and set aside.
Melt remaining butter and add onion and garlic. Sauté for 5 to 6 minutes or until onions just begin to cook down. Season with salt and pepper.
Add sun-dried tomatoes and continue to sauté for an additional 3 to 4 minutes.
Stir cream into skillet and simmer until cream reduces slightly, about 4 minutes.
Stir Parmesan into cream mixture until smooth creamy.
Add spinach to skillet and stir until spinach leaves have just wilted. Season with salt and pepper.
Add chicken back into skillet, spoon some sauce over each pieces and simmer for 3 to 4 minutes. Serve.
Source : allrecipes .com