So it's possible to just use a second can of condensed milk? Not an alien and I really like dulce de leche, but I'm not sure that I find it ready-made here in Belgium…
My bars were very, very thick and there was so much topping that about half of it couldn't stick to the dulce de leche and it was wasted since it fell off. Cooking this in a larger pan would be a much better idea and solve the problem- or even keeping the pan size the same to keep the thick bottom crust and cutting back on the topping so it all sticks. These are super rich, I'd recommend cutting into bites rather than bars. The flavor is fabulous!
Yum! I haven't seen these before! I don't think I eat enough dulce de leche
Yess. I need this deliciousness in my belly immediately! I love anything with the words "dulce de leche" in it!
I could not use coconut, so just pecans mixed into remaining dough for topping, but these are delicious. I used home made Dulce De Leche and everyone loves them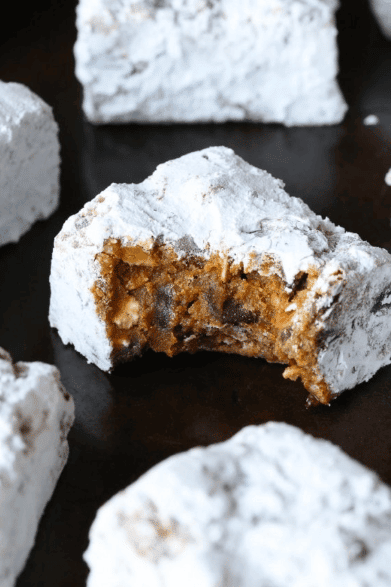 Ingredients :
1 (14- ounce) box graham crackers, crushed finely
2 cups semi-sweet chocolate chips
1 cup old fashioned oats
1 teaspoon kosher salt
1 (14- ounce) can sweetened condensed milk
1 (13-14 ounce) can Dulce de Leche
1 cup powdered sugar
Instructions:
Preheat oven to 350°F. Line a 9×13 pan with foil and coat generously with nonstick spray and set aside.
In a large bowl combine graham cracker crumbs, chocolate chips, oats, salt, condensed milk and dulce de leche. Stir to combine evenly. Press the mixture evenly into the pan.
Bake for 25-30 minutes until set.

All the bars to cool completely.
Remove the foil from the pan and cut into squares.
Pour the powdered sugar into a bag and place 5-6 squares into the bag. Shake gently to coat with powdered sugar. Remove from the bag, transfer to a platter and repeat with the rest of the squares.
Serve immediately or store airtight for up to 5 days.
source :1strecipes.com