This just seems like a great way to continuously have fruit on hand. This is a recipe my grandmother used to make all the time and it was fabulous. is a delicious quick snack that gets more potent the longer it sits!
summer gives up its bounty of fresh fruit, preserve that sun-kissed flavor in good-quality brandy (for the best results) to be enjoyed year round on ice cream, pound cake, pancakes, or as is with ​whipped cream. One of the ways in which fruits can be preserved is in alcohol—no water-bath processing required—and the brandy contributes a wonderful flavor as well.
A single type of fruit can be used, say peaches only or just pears, or a combination of fruits and berries. Berries should be left whole (cherries pitted for easier eating), but larger fruits will need to be pitted and diced and, in the cases of nectarines, peaches, and pears, blanched and peeled. Keep in mind that it takes at least one month for the fruit to be at its best (longer is better), so plan far ahead.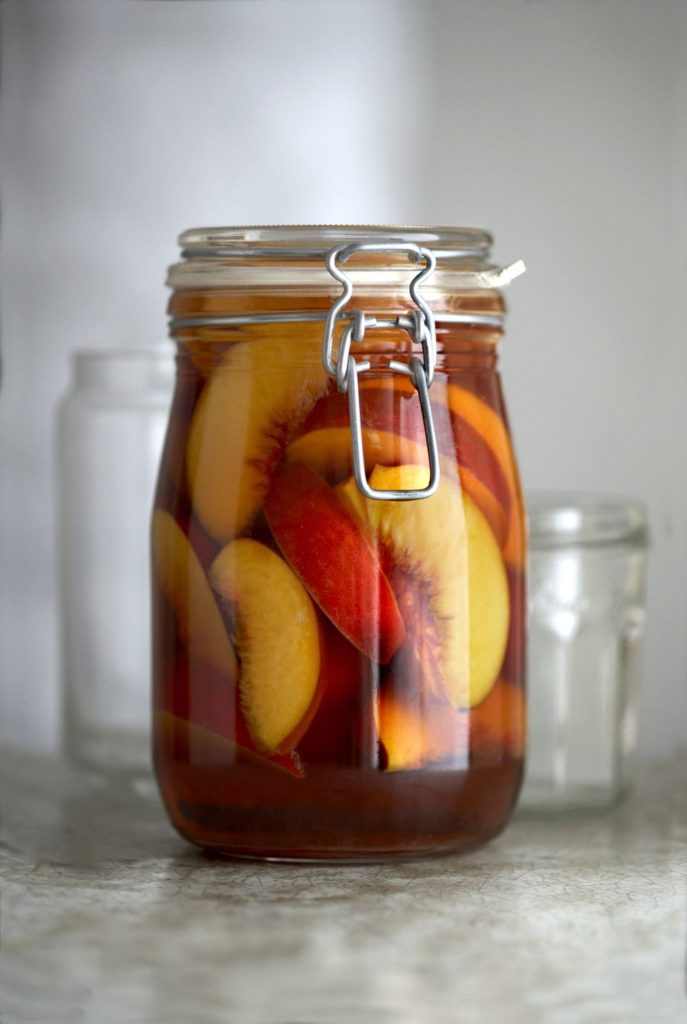 Ingredients:
3/4 sugar
1 cup of peaches, canned and drained
1 cup of pineapple, canned and drained
1 cup of maraschino cherries, canned & drained
Directions:
In a bowl, mix all ingredients together and store in a closed jar (but not air tight).
Every 2 to 3 weeks, empty fruit into bowl, add chopped fruit and sugar. Mix well. Wash and dry jar.
Tip: Never let fruit get lower than 2 cups before adding fruit. Never store in tightly sealed jar as it could explode. Good on ice cream, plain cake or all alone.
Source : allrecipes.com